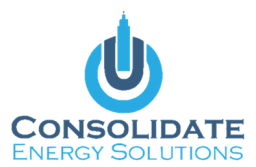 Powering Smart Energy Choices
Consolidate Energy Solutions provides an extensive suite of behind-the-meter professional energy consulting / procurement / financing / project development services for any commercial / industrial / non-profit / public / residential consumer of electricity, fuel oil, natural gas, district steam and water across the United States.
We deploy a holistic approach to behind-the-meter energy use and cost reduction based on our foundation of de-regulated energy experience and expertise. We develop, implement and finance energy projects for any commercial property owner and/or tenant through our customized "Simple Efficiency" Measures which are based on the following

4P

approach:
1 Permanent Energy Reduction - Energy Reduction involves the evaluation of a multitude of electricity / natural gas / district steam / fuel oil / water measures including but not limited to Energy Storage (Battery/Thermal), LED lighting & controls, Building Automation, Solar PV, Distributed Generation, HVAC (VFDs, Boilers, etc.), Oil-to-Gas Conversions,  Low-Flow Devices, Steam Distribution Improvements (steam traps, etc). Click on our Energy Projects page for examples of our Simple Efficiency solutions. Also our MicroGrid News page (registration required) provides a comprehensive resource for the latest market information on these technologies!
2  Payback Maximization - Our clients always come first and we only recommend projects that make financial sense for the customer based on their investment criteria. Yes, energy projects are financial investments and we treat them as such. Our expertise in behind-the-meter optimization results in creative techniques to maximize project IRR/ROI with strategies such as Demand Response, Utility/Sate/Federal Incentive Maximization, Tax Benefits and more. 
3  Price Execution - We know the United States electricity and natural gas de-regulated energy landscape and we know how behind-the-meter energy reduction projects impact retail electricity and natural gas supply rates. Our clients not only achieve optimal energy reductions (kW, kWh, BTU) but also optimal energy rate reductions ($/kWh, $/therm). The result, maximum dollar savings for our clients! Click on our About Us , Procurement and Market Data pages for more information.
4  Project Financing - If a client does not have capital reserves to fund behind-the-meter energy projects or would rather use their critical reserve funds for other facility improvements, no problem. Consolidate Energy Solutions provides project financing from conventional loans to shared savings, PPA's and other creative financial structures! Our Energy Lease is the most popular for LED Lighting Projects. As an example, we are capable of deploying P.A.C.E. financing where available and most recently became an Energize NY Finance Qualified Partner for PACE projects in NY! For more information on PACE, click here: PACE by CES
Consolidate Energy Solutions is a Contractor & Market Partner of ALL of the Con Edison Energy Efficiency Programs Including:Commercial & Industrial (C&I) Energy Efficiency Program Commercial / Small Business Direct Install Program (CDI)Multifamily Energy Efficiency Program (MEE)Market Partners are trained to provide technical support to commercial and industrial, small business and multifamily building customers for the installation of energy efficient equipment and can assist with the application process.
Consolidate Energy Solutions is an Energize NY Finance Qualified Partner. A Qualified Partner is a building owner's go-to resource to address energy improvement goals.  Partners are able to formulate and develop project plans that address the deepest energy saving opportunities, while accessing the incentives and capital needed to make those improvements profitable from the outset.
Consolidate Energy Solutions is a member of the New York Battery and Energy Storage Technology Consortium (NY-BEST). NY-BEST was

 created in 2010 to position New York State as a global leader in energy storage technology, including applications in transportation, grid storage, and power electronics.